Family stories don't begin with writing. They begin with living, and observing, and remembering. Family stories begin somewhere and develop somewhere else and someone notices. That's what happened to me and it had to do with something I saw in a china cabinet in the home of my parents-in-law.
This home was a modest bungalow in a bedroom community outside of New York City. My in-laws did not host dinner parties beyond family gatherings at Thanksgiving that strained the capacity of the tiny kitchen. Nevertheless, in the dining room were two cabinets displaying a large assortment of beautiful china. My accustomed place at the table meant that I had a view of one of the cabinets, which had a vaguely mid-century modern design and held the only china I ever saw used—ivory with a band of green openwork.
On the opposite side of the small room stood a dark wooden china and linen cabinet with drawers and cupboards. It had a shelf that might have been intended as a buffet with a mirrored back and open shelves on the sides. These shelves held bowls and pitchers with floral patterns in pinks and salmons, many of them cracked and visibly repaired. In the back of the cabinet I faced, though, was something so unlike the other pieces as to be utterly alien and, therefore, interesting.
I saw it first something like you see above, standing up at the back of the cabinet, partially hidden by stacks of plates and cups and saucers.
I never saw it used for anything. It was always just in the back of the cabinet. I might have asked once where all the china came from and there was a bit of eye-rolling and a mention of Aunt Annie but nothing else was forthcoming. My father-in-law, into whose family Aunt Annie had married, was not a storyteller, which is frustrating if you are new to the family and notice something interesting.
Many years went by, during which the platter stayed in the same place, at the back of the cabinet. I kept an eye on it mostly because it was so unlike anything else in the house. The time came for my parents-in-law to move out of the house so my husband met his brother there over a Thanksgiving weekend to deal with its contents. I was asked if I wanted anything. At first I said no, but then I remembered the platter. "I would like that," I said, "the platter with the red rim in the back of the glass cabinet."
And so I got it – and lo and behold, not only the platter but twelve matching plates that had been stored all those years in a side door of the OTHER china cabinet, the heavy wooden one. All that time the plates had been behind a door directly behind me.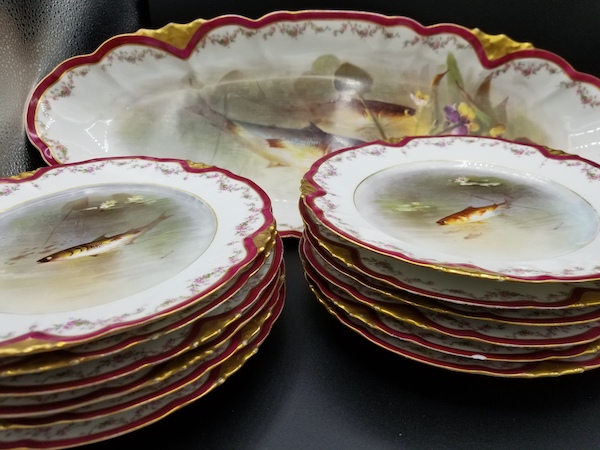 Suddenly this was no longer an interesting curio. It was a very large, very heavy Limoges platter, dating from the early 20th century, ornamented with fish swimming in a delicate pond, hand painted by someone named Muville, or his studio anyway.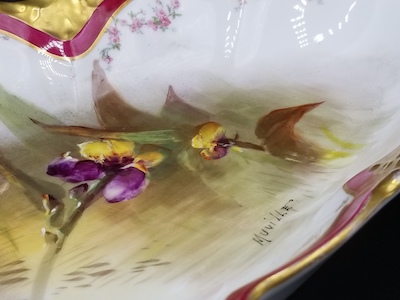 The scalloped rim had a heavy dark red ribbon banded with gold outside the most delicate swags of pale pink roses.
I think it is that almost shocking aesthetic contrast that attracted me to it.
I learned that the set was a part of a very large collection of china that had been divided among three brothers, my father-in-law being one, none of whom had any practical use for the pieces. But, you know, they had been Aunt Annie's…. Evidently the china was not regarded as family heirlooms—Annie had married into the family after all—and was also considered both a responsibility and somehow an embarrassement.
So I tried to learn more about Annie, a challenge now that all the close connections had died. BUT, some of the family stories had been written down! (You see why I keep trying to get you to write?) My father-in-law's brother's wife, Cay, inspired by a memoir-writing workshop, had produced a collection of stories—My First Ninety Years. (And she was working on the second ninety, because she died at 103.) In that collection she has a note about Aunt Annie –
John had an aunt on his father's side. Her name was Aunt Annie. She lived in a posh apartment on 99th Street with a maid and a chauffeur. She was a formidable personality, Her dress was a few decades behind the times—long, dark outfits, severe in style and function. Everyone seemed to be afraid of making a misstep in her presence. John took me to visit her one evening after work and we were invited to stay for dinner. We were definitely on our best behavior and I was glad that in my childhood I had learned the proper way to behave at table with all of Aunt Annie's fine china and silverware, though I wasn't used to maid service!
So now, I have a set of china meant for a life I do not live. I tried to get rid of it at one point but was told there was no market because no one lives that way anymore and the plates can't go in the dishwasher. The set may have value to collectors but I am now attached and it is now part of our family tradition to bring it out on Christmas Eve, although not for fish, just for the sheer joy of it.
_____
That is as far as I have gotten with this story. Of course I know there is way more to it than that and I have only barely introduced the personalities and interactions and sub-plots that make up a family. But this story pretty much stands on its own, it suggests that there might be more to learn, and it all started with an intriguing object.
With special thanks to Aunt Cay who proves, by writing a memoir at the age of 90, that it is never too late to get the family stories written.